The Northwest Arkansas Audubon Society is a registered non-profit organization serving the four-county region of northwest Arkansas -- Benton, Carroll, Madison and Washington counties.


Northwest Arkansas Audubon Society Blog

-------------------------------------------------------------------------  
NWAAS NEWS:
UPCOMING FIELD TRIPS & MEETING
SEPTEMBER – DECEMBER 2015
SEPTEMBER
FIELD TRIP TO HOBBS STATE PARK-CONSERVATION AREA, Sunday September 13, 2015. Meet at 9 AM in the parking lot for Sinking Stream and Historic Van Winkle trails in Hobbs State Park-Conservation Area east of Rogers. Both share the parking on highway 12. Spotted Jewelweed and other flowering plants native to the Ozarks are common in these areas and quite attractive to many bird species, including migrating Ruby-throated Hummingbirds. Other interesting native flowers here, too, include Great Blue Lobelia Both walks are easy and often birdy (each about 0.5 miles). Historic Van Winkle Trail is accessible. As on all NWAAS field trips, participate as much or as little as you want. The field trip is free and open to the public. For more about Hobbs: http://www.nwarkaudubon.org/id17.html.
FIELD TRIP TO BEAVER LAKE NURSERY POND, Saturday September 19, 2015. Meet 9 AM at Beaver Lake Nursery Pond on Beaver Lake, east of Rogers. Directions, pictures and more details about birding potentials at the nursery pond can be found on the NWAAS web site: http://www.nwarkaudubon.org/id17.html. The nursery pond includes 150 acres, mostly forested, with a 30 acre pond with a circle walk of about 1.0 miles. This provides complete views of the pond, bird boxes for Tree Swallows, Eastern Bluebirds, and Wood Ducks, the surrounding shortleaf pine-oak woodlands, and Beaver Lake. The field trip will involve a leisurely stroll on the levee. As on all NWAAS field trips, participate as much or as little as you want. The field trip is free and open to the public.
OCTOBER
Sunday October 4, 2015. Ninestone Land Trust in Carroll County. No finer spot to see fall in the Ozarks plus birds typical of the region. Meet at Ninestone by 9 AM. Easy hike, bluffs, waterfalls, fun social pot lunch at noon in front of waterfalls. Info: http://www.nwarkaudubon.org/id17.html
NOVEMBER
Saturday November 14, 2015. Lake Fayetteville for the fall waterfowl migration. Meet at 9 AM in parking lot on the north end of the dam (near ball fields and entrance to the boat dock). Dr David Chapman has produced an interesting, detailed book about the birds, history, and flora of the lake, plus an award-winning separate history of the land that is now a lake. More info about the lake at: http://www.nwarkaudubon.org/id17.html
DECEMBER
NWAAS annual membership meeting at Hobbs State Park-Conservation Area visitor center, December 5, Saturday, from 2-4. In addition to election of officers, Vice President Joanie Patterson will present a program on her birding trip to Trinidad and Tobago.
There will probably also be a field trip to observe winter waterfowl to Beaver Lake dam site on Saturday morning, December 5 – details to be worked out and announced. It will finish in time to go to the annual membership meeting.
Fayetteville Christmas Bird Count (date to be announced, but probably Sunday, December 20, 2015).
-----------------------------------------------------------------------------------

PAIGE MULHOLLAN WATERFOWL BLIND
Mulhollan blind drawing by Michael Cockram, July 2014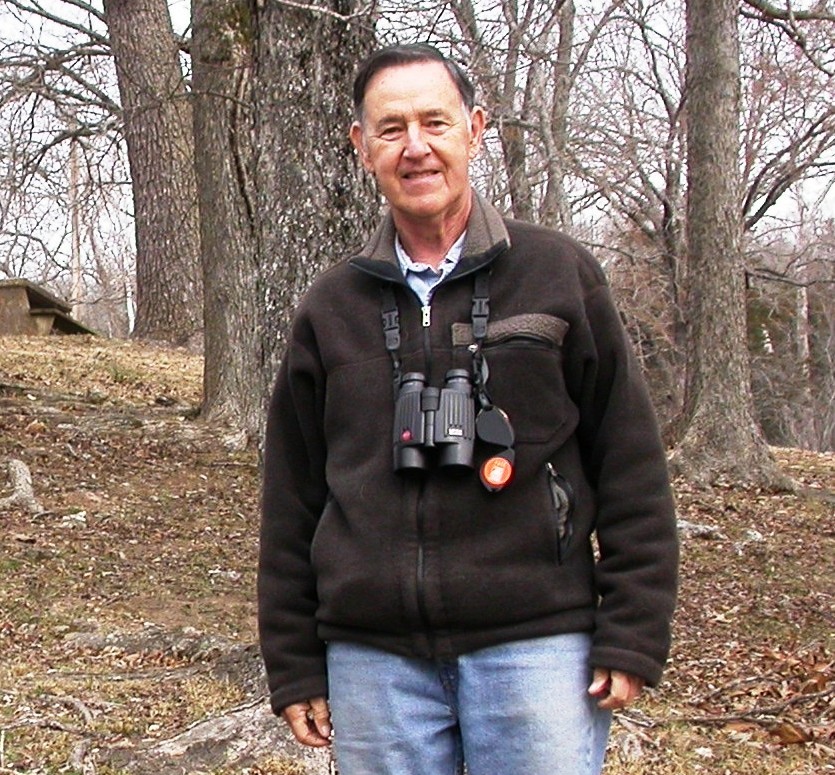 Paige Mulhollan in 2006 at Nichol Preserve
COMING SOON TO LAKE FAYETTEVILLE:
NORTHWEST ARKANSAS AUDUBON SOCIETY (NWAAS) is lead conservation organization in building and managing the PAIGE MULHOLLAN WATERFOWL BLIND that will be constructed at Lake Fayetteville in fall 2014. We are hoping Auduboners and friends who are able will financially help with this project.
WHY THE BLIND? As a result of rapid population growth in Fayetteville-Springdale, recreational use at Lake Fayetteville has soared, straining natural elements we have long taken for granted. We decided an attractive but highly-functional viewing blind would be a productive outreach and educational tool, with least impact on waterfowl and other wildlife. Location of the blind on the lake's southeastern shore will make it highly function during peak waterfowl use times (late fall-winter-early spring) and easy to access from the area adjacent Botanical Garden of the Ozarks.
WHAT WILL MULHOLLAN BLIND BE LIKE? We consulted with two birders who have visited many blinds, Dr David Chapman and Dr Douglas James. Kelly Mulhollan brought on an architect, Michael Cockram of Bowerbird Designs, who conducted additional research on blinds. Cockram's design combines aesthetic beauty and highly durable materials. We have all necessary permits from Fayetteville Parks and Recreation. The blind will blend into the shoreline. Much of the lake's highly productive back areas will be visible without disturbing the birds and other wildlife.
Dr PAIGE MULHOLLAN: Paige Mulhollan, a Fort Smith native and former professor at UA-Fayetteville, was an early Director of the Botanical Garden of the Ozarks (BGO) and an avid birder. Upon retirement, he and wife Mary Bess became active in Audubon at Hilton Head Island in South Carolina, then in Fayetteville with NWAAS. He and Mary Bess also had a strong interest in butterflies. Paige was President of the Carolina Butterfly Society. Mary Bess continues these interests since Paige's passing in 2013.
WHO WILL USE THE BLIND? The blind will be free and open to the public. We expect Botanical Garden to make regular use of it as part of their education programs. The blind should be a magnet for birders of all ages and skills, photographers, and those who'd like this special view of the lake's natural elements.
HOW CAN YOU HELP? Dr David Chapman has been appointed to head a NWAAS committee to build and manage the blind. He is author of "The Bird Life of Lake Fayetteville." He has offered to give anyone a copy of his book who can afford to donate $100 or more to the project (see below). But there are other ways to help, too. NWAAS will also set up volunteer work days this fall to help with construction. All skills and abilities will be welcome.
IF YOU CAN DONATE TO HELP WITH THE PROJECT: Make checks to NWAAS with a brief note your check is for the blind. Mail to NWAAS Treasurer Bill Beall: 2204 Hendricks Blvd, Fort Smith, Arkansas, 72903-3422. He will maintain a listing of all contributions and send each contributor an acknowledgement. All gifts to NWAAS are charitable for tax purposes. If you need more information about this, contact Bill at billtoka@mynewroads.com. Those who contribute at least $100.00 and want a copy of the Lake Fayetteville bird book need only send David an email with (1) a note about their contribution and (2) a mailing address. Contact David here: dchapman@uark.edu.
___________________________________________________________________________
Look at stunning bird photography by:
___________________________________________________________________________

NWAAS field trip to Lake Fayetteville.