The Northwest Arkansas Audubon Society is a registered non-profit organization serving the four-county region of northwest Arkansas -- Benton, Carroll, Madison and Washington counties.


Northwest Arkansas Audubon Society Blog

-------------------------------------------------------------------------  
NWAAS NEWS:
2015 Christmas Bird Count Data

NORTHWEST ARKANSAS AUDUBON SOCIETY
2016 FIELD TRIPS & BIRDING CALENDAR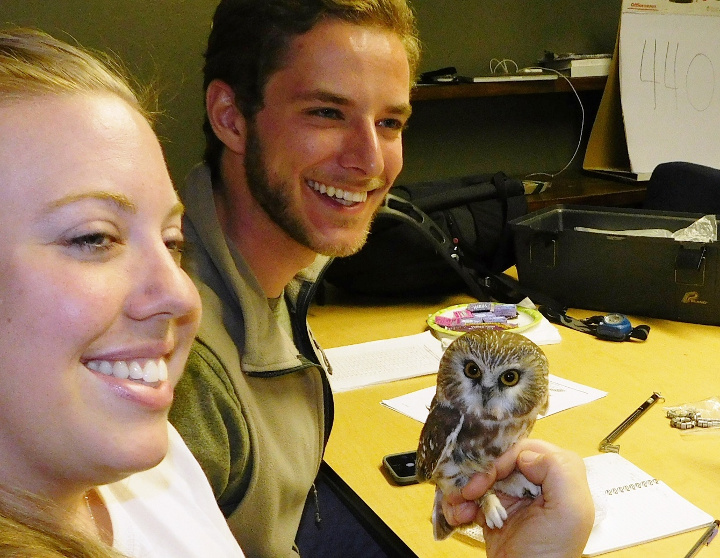 All NWAAS field trips are free and open to the public. We always welcome new members, but membership in NWAAS is not a requirement for participation. We try to make our field trips accessible to everyone, all ages, abilities, interests. Beginning birders are always welcome. We have field trips on Saturdays and Sundays to accommodate different schedules. We try to arrange carpools where possible.
For maps and more information about these places, check the "Places to bird in northwest Arkansas" link in the navigation panel at the top left of this page.
If you are interested in being added to the NWAAS email list for updates on field trips and other society events, please send a message to: joeneal@uark.edu. Some of the information on the trips below can change, so additional details & updates about trips are sent via the email prior to the announced date. Also, check our NWAAS facebook page for all the latest on the local birding scene.
SAFETY FIRST, ALWAYS! Our field trips are open to everyone. We try to warn about any special dangers that might be encountered, but neither NWAAS nor individual field trip leaders assume responsibility for personal safety. If you have special needs, or special concerns, please ask the field trip leader before the trip starts. We do not knowingly place anyone in danger on any field trip. We count on those who attend to keep trips safe for everyone.
JANUARY
Saturday January 16, 2016. Rocky Branch Park on Beaver Lake. Meet at 10 AM at the Rocky Branch marina parking area. Species typical of the lake in winter include Pied-billed and Horned Grebes, Bonaparte's and Ring-billed Gulls, Common Goldeneyes, Bald Eagle, possible Common Loon. We will also look for land birds in cedar glades and upland shortleaf pines (like Pine Warbler). In the past, the Army Corps of Engineers has waived the park day use fee ($4) for this field trip (we will post a note on facebook before the event about this fee). NOTE: Before traveling to Rocky Branch, check the NWAAS facebook page. If the trip is NO GO, a notice will be posted by noon on Friday January 15. You may also call the trip leader (479-521-1858) on Friday evening for an update if you do not have facebook access. This trip will be cancelled ONLY it is too windy for observing birds on the lake, just too bitterly cold, or for obviously unsafe driving conditions. For more information, check out Hobbs State Park-Conservation Area and Rocky Branch Park here: http://www.nwarkaudubon.org/id17.html
FEBRUARY
Saturday February 6, 2016. Join in with members and friends at Eagle Watch Nature Trail on SWEPCO Lake just west of Gentry. Meet in the parking lot at 9 AM. Co-leader is Terry Stanfill, who manages EW. There is a short walk on the trail through open field habitat to a viewing platform with good potential to see Bald Eagles, various species of hawks and sparrows, ducks and other water birds. After this walk, we may travel a short distance to find more wintering eagles wintering on former Round Prairie. SPECIAL! Terry will bring with him free packages of Swamp Milkweed seed for anyone interested in growing this beautiful native plant closely associated with Monarchs and other pollinators. More information about Eagle Watch here.
Saturday February 13, 2016. Join the Great Backyard Bird Count at Devil's Den State Park. Meet Park Interpreters and Joe Neal in the parking area at the lower Devil's Den Trailhead, southside of Lee Creek bridge at 9 am. This generally lasts a couple of hours. Slow, easy walking with lots of listening. Everyone and all birding skills welcome. This is just the first event in a full day involving and celebrating birds. Check with the park for the full schedule: 479-761-3325. All NWAAS field trips are free and open to the public. You do not have to be a member to participate.
February 27, 2016 (Saturday EVENING) American Woodcocks at Lake Wedington. Meeting time, 5:30 PM (need to be on time). Field trip led by woodcock expert Dr David Krementz UA-Fayetteville who will tell us a lot about woodcocks at the parking site and explain what's going on for the field trip. If you are curious about woodcocks, this is a great opportunity. Details are below about the meeting place. The 15,000 acre Wedington Unit is designated as an Urban Forest. We combine into carpools in as few cars as possible to a spot approx. 1-mile away to observe woodcocks. DIRECTIONS: We are going to a different spot than in past years, with prime habitat and likely more woodcocks. Dr Krementz and his students may try to net woodcocks for a closer look. From the intersection of I-49 and Highway 16 in Fayetteville, travel WEST approx. 11.5 – 12 miles on HWY 16. This will take you to the parking lot that is on the north side of the highway. This is the 5:30 meeting spot. If you are using GPS, go to 36 05 30.12 N and 94 22 30.07 W. The main entrance to the Wedington Recreation Area is a little further west – if you get there, you went too far. Consider a flashlight, don't wear bright clothes, walking shoes ok. We will wait for the woodcock displays to begin near and shortly after sunset. Also, lots of other birds are in the area to enjoy during the wait. Overall, this should be a fairly easy trip, including those with walking impairments. The woodcock displays should be viewable/audible near where we park. If you need more information can also call me at home: 479 521 1858.
MARCH
Saturday March 19, 2016. Trip to mature shortleaf pine habitat in the Shores Lake-Fern area of Ozark National Forest, then down into the western Arkansas River valley, including visits to Frog Bayou WMA and Arkansas River. Leader is Bill Beall, veteran birder from Ft Smith. We will be seeking Brown-headed Nuthatches and other birds typical of pine forests and later, birds of ponds, river, and agricultural fields in the valley. Meet at 9 AM at the Shores Lake picnic area entrance on the west side of the lake. You can show up earlier if you wish. It will be easy to tailor this day to your own time schedule. As always, you are welcome to leave or join whatever suits your schedule. http://media.tripod.lycos.com/2020453/1439038.pdf
APRIL
Saturday April 9, 2016. ALL welcome to a unique place, Wattle Hollow Retreat Center in the scenic Boston Mountains near Devil's Den State Park. Early spring migrants, wildflowers, and a fun, social pot luck on the deck. Bring something to share. Meet up along highway 170, where you turn into Wattle, by 9 AM for the leisurely & birdy stroll on a graded road downhill to the retreat center. More information including directions will be provided prior to this event.
Sunday April 24, 2016. Ninestone Land Trust in Carroll County. Meet at Ninestone by 9 AM. Fun casual hike where we will identify birds and wildflowers, enjoy Piney Creek and soaring birds, picturesque bluffs, visit glade restoration areas, identify rare flowers, and stop for a relaxing potluck at noon overlooking the famous waterfall. This can be a peak time during spring bird migration. More information at http://media.tripod.lycos.com/2020453/1287399.pdf
April 29-May 1, 2016. Arkansas Audubon Society Spring convention will be held April 29-May 1, 2016 at the Winthrop Rockefeller Institute on Petit Jean Mountain. There are many field trips associated with this exciting meeting. Check out more details here: http://www.arbirds.org/
MAY
Saturday and Sunday May 14-15, 2016 (probable dates). International Migratory Bird Day in Benton and Washington counties, with additional counts in at least Carroll County. Coordinated by Mike Mlodinow for Washington and Benton counties. For more information or to participate, contact mamlod@hotmail.com.
Saturday May 21, 2016. Siloam Springs City Lake. Meet 9 AM in the parking area off Dawn Hill East Road on the lake's south side. Nesting Baltimore Orioles, Warbling Vireos, Red-headed Woodpeckers, and other birds. Numerous native flowers. Slow easy walk to explore this approximately 60-acre lake, an impoundment of Flint Creek.
JUNE
Sunday June 5, 2016. Cave Mountain and the upper Buffalo River in Newton County. Get ready for your annual "warbler neck." The focus is on nesting birds in Ozark forests, including warblers: Cerulean, Hooded, Black-and-white, Louisiana Waterthrush, Northern Parula, and many others. We will inspect an amazing flora, too, like Pawpaws and Umbrella Magnolias. Meet at the Boxley Bridge at 9 AM. More information at: http://media.tripod.lycos.com/2020453/950078.pdf
JULY
Saturday July 9, 2016. Chesney Prairie Natural Area near Siloam Springs. See the mid to late summer flora of the Tallgrass Prairie, including blazing stars, other flowers, always fascinating pollinating insects that crowd the flowers of Rattlesnake Masters and various milkweeds, plus open country birds like American Kestrels, Dickcissels, and probably Loggerhead Shrikes. Meet at Chesney at 9 AM. Information about Chesney at: http://media.tripod.lycos.com/2020453/957092.pdf
NWAAS membership meeting (to be announced).
AUGUST
Saturday August 27, 2016. Craig State Fish Hatchery at Centerton. Meet in the parking lot at the hatchery at 9 AM. The hatchery has been designated an Important Bird Area by Audubon Arkansas. Numerous shorebird species are headed south at this time of year after nesting in the far north. Many species stop on mudflats provided by drained fish ponds. Most folks will be on foot, but those with mobility impairments are welcome to drive along with the group.
SEPTEMBER
Sunday September 11, 2016. Hobbs State Park-Conservation Area. Meet at 9 AM in the parking lot for Sinking Stream Trail and Historic Van Winkle Trail. Both share the parking area on highway 12 east of Rogers. Spotted Jewelweed is dense along the spring runs, especially in Van Winkle. As this is peak for southward migration of Ruby-throated Hummingbirds, they are expected to be quite numerous in the flowering jewelweed. Other interesting native flowers here, too, including Great Blue Lobelia. These are both relatively easy and often birdy walks (each about 0.5 miles) with numerous interesting native plants. Historic Van Winkle Trail is accessible for those with mobility impairments.
OCTOBER
Sunday October 9, 2016. Ninestone Land Trust in Carroll County. No finer spot to see fall in the Ozarks plus birds typical of the region. Meet at Ninestone by 9 AM. Easy hike, bluffs, waterfalls, fun social pot lunch at noon in front of waterfalls. Info: http://www.nwarkaudubon.org/id17.html
NOVEMBER
Saturday evening November 5, 2016. Field trip to Ozark Natural Science Center for trapping and banding Northern Saw-whet Owls. We are invited to join Mitchell Pruitt, Kim Smith and others working on this owl project. This may be the migration peak, based upon existing records. Meeting time will be around 7 PM. More details will be provided as we get closer to the date.
Saturday November 12, 2016. Fall waterfowl migration at Lake Fayetteville. Meet at 9 AM in parking lot on the north end of the dam (near ball fields and entrance to the boat dock). More info about the lake at: http://www.nwarkaudubon.org/id17.html. We will also visit the Mulhollan waterfowl blind.
DECEMBER
NWAAS annual membership meeting (date and program to be announced)
Fayetteville Christmas Bird Count (date to be announced)
-----------------------------------------------------------------------------------

PAIGE MULHOLLAN WATERFOWL BLIND
Mulhollan blind drawing by Michael Cockram, July 2014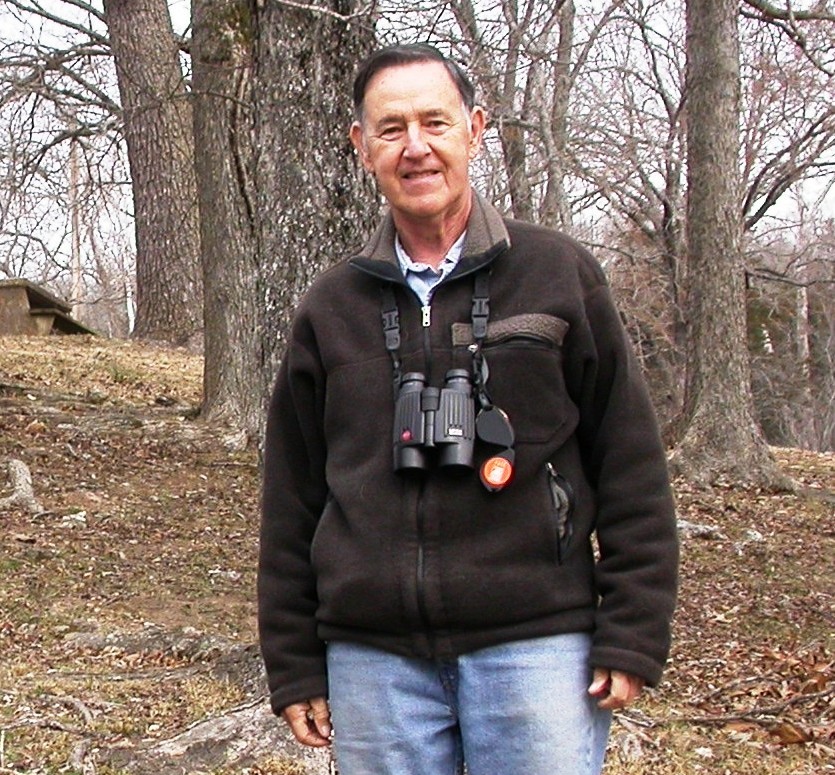 Paige Mulhollan in 2006 at Nichol Preserve
COMING SOON TO LAKE FAYETTEVILLE:
NORTHWEST ARKANSAS AUDUBON SOCIETY (NWAAS) is lead conservation organization in building and managing the PAIGE MULHOLLAN WATERFOWL BLIND that will be constructed at Lake Fayetteville in fall 2014. We are hoping Auduboners and friends who are able will financially help with this project.
WHY THE BLIND? As a result of rapid population growth in Fayetteville-Springdale, recreational use at Lake Fayetteville has soared, straining natural elements we have long taken for granted. We decided an attractive but highly-functional viewing blind would be a productive outreach and educational tool, with least impact on waterfowl and other wildlife. Location of the blind on the lake's southeastern shore will make it highly function during peak waterfowl use times (late fall-winter-early spring) and easy to access from the area adjacent Botanical Garden of the Ozarks.
WHAT WILL MULHOLLAN BLIND BE LIKE? We consulted with two birders who have visited many blinds, Dr David Chapman and Dr Douglas James. Kelly Mulhollan brought on an architect, Michael Cockram of Bowerbird Designs, who conducted additional research on blinds. Cockram's design combines aesthetic beauty and highly durable materials. We have all necessary permits from Fayetteville Parks and Recreation. The blind will blend into the shoreline. Much of the lake's highly productive back areas will be visible without disturbing the birds and other wildlife.
Dr PAIGE MULHOLLAN: Paige Mulhollan, a Fort Smith native and former professor at UA-Fayetteville, was an early Director of the Botanical Garden of the Ozarks (BGO) and an avid birder. Upon retirement, he and wife Mary Bess became active in Audubon at Hilton Head Island in South Carolina, then in Fayetteville with NWAAS. He and Mary Bess also had a strong interest in butterflies. Paige was President of the Carolina Butterfly Society. Mary Bess continues these interests since Paige's passing in 2013.
WHO WILL USE THE BLIND? The blind will be free and open to the public. We expect Botanical Garden to make regular use of it as part of their education programs. The blind should be a magnet for birders of all ages and skills, photographers, and those who'd like this special view of the lake's natural elements.
HOW CAN YOU HELP? Dr David Chapman has been appointed to head a NWAAS committee to build and manage the blind. He is author of "The Bird Life of Lake Fayetteville." He has offered to give anyone a copy of his book who can afford to donate $100 or more to the project (see below). But there are other ways to help, too. NWAAS will also set up volunteer work days this fall to help with construction. All skills and abilities will be welcome.
IF YOU CAN DONATE TO HELP WITH THE PROJECT: Make checks to NWAAS with a brief note your check is for the blind. Mail to NWAAS Treasurer Bill Beall: 2204 Hendricks Blvd, Fort Smith, Arkansas, 72903-3422. He will maintain a listing of all contributions and send each contributor an acknowledgement. All gifts to NWAAS are charitable for tax purposes. If you need more information about this, contact Bill at billtoka@mynewroads.com. Those who contribute at least $100.00 and want a copy of the Lake Fayetteville bird book need only send David an email with (1) a note about their contribution and (2) a mailing address. Contact David here: dchapman@uark.edu.
___________________________________________________________________________
Look at stunning bird photography by:
___________________________________________________________________________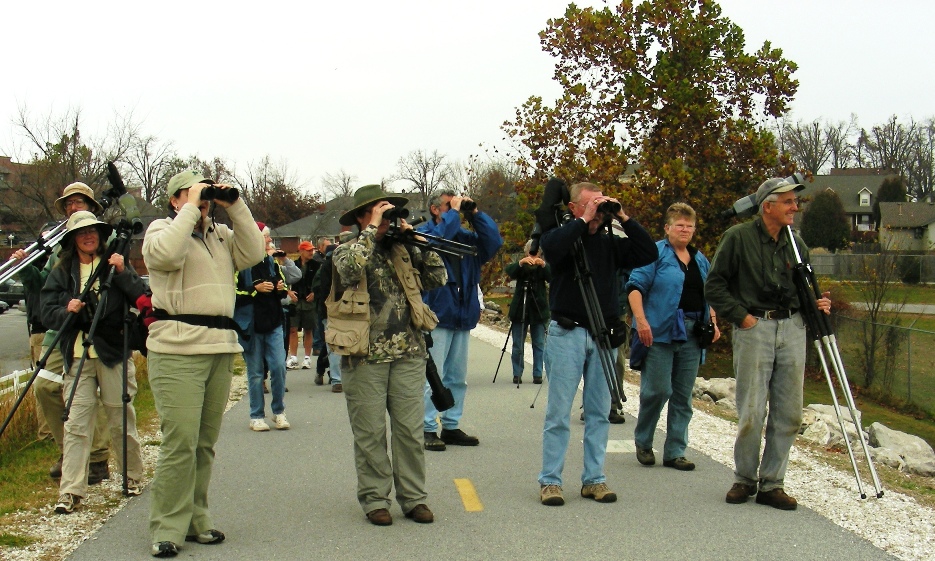 NWAAS field trip to Lake Fayetteville.